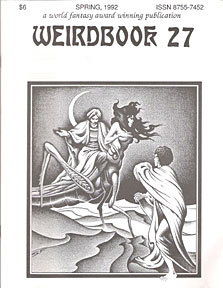 For writers trying to sell horror fiction in the '80s and early '90s, there were two magazines dear to our hearts—Stuart David Schiff's Whispers and W. Paul Ganley's Weirdbook. Oh, there were other markets at the time, but these magazines were defenders of the faith.
I felt as if I'd made a leap in my writing with "These Words Are Haunted," in which a modern-day man is sucked into the pages of a gothic novel. Plot, character, setting … it all seemed to come together. (If only the members of my writing workshop had agreed!) I was extremely pleased when Paul Ganley published it in the Spring 1992 issue of Weirdbook. As for cracking Whispers, that will forever be a fantasy, as it is no longer with us. (By the way, the final issues of each magazine were published together back in 1997, bound back to back.)
As soon as I wrote this story, I knew that I wanted These Words Are Haunted to be the title of my eventual collection of short horror stories. And so it was.