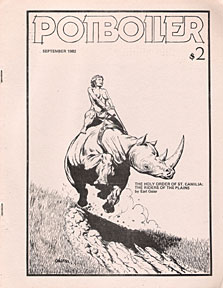 "The Test" was the second story written while at the Clarion Science Fiction and Fantasy Workshop to see print. No other stories produced at that workshop were ever published. I felt that it was more important to use what I had learned to go forward and write new (hopefully) better stories rather than to patch up the flawed stories I had produced while there.
"The Test," published in the September 1982 issue of Potboiler, was written in the form of a citizenship test given in the year 2026 to potential Earth immigrants. (And 2026 seems so much closer now than it did when I wrote the piece in 1979.) This humorous story, combined with "Brain Drain," was what caused Damon Knight to recommend that I stick to comedy.
That was the only advice of his that I did not take.