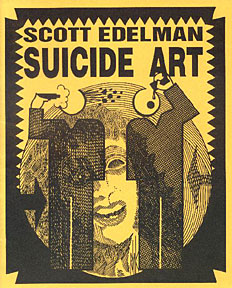 Published by Stefan Dziemianowicz's Necronomicon Press in 1992, Suicide Art is a 36-page chapbook containing two of my short stories. Both were previously unpublished at the time: "The Suicide Artist" and "The Kindest Cut."
I later chose to reprint "The Suicide Artist"—about a killer who not only makes sure his victims get what they deserve, but also that they get what they deserve in the way they deserve it—in my short story collection These Words Are Haunted. Stephen Jones and Ramsey Campbell also chose the piece to appear as the lead story in their best-of-the-year anthology, Best New Horror 4. In their introduction, they wrote, "We lead off Best New Horror with one of the most powerful stories in the volume."
"The Kindest Cut," on the other hand, received no such accolades. When I presented my original manuscript to Spacecrafts, a monthly writers workshop I attended in Massachusetts (other participants included Geoffrey Landis and Resa Nelson), the story was savaged. I had looked forward to hearing what our guest instructor for that session, Samuel R. Delany, would have to say, since the story dealt with alternate sexuality, the transgendered, and a very bizarre haunting.
As with all writers entering a workshop situation, I said I was hoping for insight, but what I was really hoping for was a pat on the head. I didn't get it. Unfortunately, Delany hated, hated, hated the story, and felt it showed a complete lack of understanding of human sexuality, which just goes to show, be careful what you wish for.
The cover art and two interior illustrations are by Robert H. Knox. I've always found the cover particularly chilling.