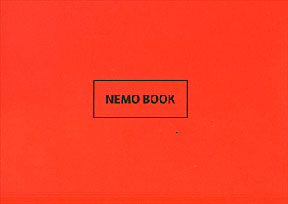 This story was published in August 2005, but I had to wait three months to tell anyone of it, because with the annual anthology Nemonymous, editor and publisher D.F. Lewis had created an intriguing philsophical experiment. All submissions to the project had to be made anonymously, so that the author's reputation would not affect Lewis' decision to accept or reject each story. Also, the writers would then have to agree to let their stories be published anonymously until some future time, so that the readers could also judge the stories on their own merits. Only once Lewis set us free, was I finally able mention this publication.
Interestingly, this story received some of my best reviews ever. One reviewer wrote:
"The Scariest Story I Know" is by far the real standout of Nemo 5, a masterpiece about life and death and the ambiguity of both, about loss and tragedy and the impossibility to discern between who's alive and who's not. An exquisite psychological study, the story discloses, however, the only sore point in the "nemonimousity," namely that, ignoring the name of the author you can't go out and buy everything he/she has published as you'd like to do after reading such a little gem.
Yet another critic commented:
"The Scariest Story I Know" switches between different narrating strands: first person, third person, second person, third person and back to first, in a mirroring, symmetrical technique. This is a ghost story based on a family's grief and the separation of two people, a father and son, from the third person, their wife and mother. But the story plays with the reader, allowing them to make one set of assumptions about who is dead, before revealing the truth. The strength of this story is that it is grounded in human emotions and relationships. It's a quietly mature and sophisticated take on the supernatural.
And a third chimed in:
"The Scariest Story I Know" rivals the above tale for subtlety, but also adds ambiguity to the mix; a story of three members of the same family, though neither the reader—nor the protagonists themselves—know who has died, and who is living. Or maybe they've all died? This is wonderful piece of fiction, but it is annoying since I want to congratulate the author by name. …
Maybe I should publish all of my work anonymously!