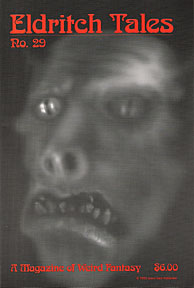 Sometimes, the smallest sins receive the harshest penalties. That's what was so pleasing about Stanley Elkin's novel The Living End, in which a good man who loves God is still sentenced to be punished forever because he once opened his store on a day of rest.
So it is in this story of mine, printed in Eldritch Tales #29 in 1993. Whatever good my protagonist may have attempted to accomplish in his life is wiped away because of his theft of a library book that he plans to give to his son as a birthday present. Many horrifying things happen in this story, but the unfairness of it all may be the most horrifying.
To those who think that this character's fate is out of proportion to his crime, I'm not sure that the bibliophiles out there would agree.