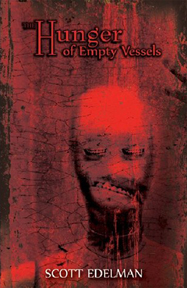 I am "deep, disturbing, and emotionally draining." Well … not me personally. Rather, it's my novella The Hunger of Empty Vessels, about the tortured relationship between a father and son, published in April 2009 as a chapbook by Bad Moon Books, which was judged so by Nick Cato. That review also stated that "Edelman really knows how to pack a knockout into a literary jab."
Meanwhile, over at the Horror Drive-In, reviewer Mark Sieber wrote: "The first thing I want to point out is how well written The Hunger of Empty Vessels is. The language is rich and each sentence is a beautiful construction. Clearly Scott Edelman is a solid professional. I urge readers to give The Hunger of Empty Vessels a chance." What more could I ask for?
And if those reviews aren't enough to make you give the tale a read, check out what David Mack has to say: "The Hunger of Empty Vessels is an unnerving work that peers into the darkest corner of the human soul and makes one fear what lurks at the bottom of that abyss—but also makes it impossible to look away. I dare you to try."
The Hunger of Empty Vessels was a Stoker Awards finalist in the category of Long Fiction.
As for "Here Choose I," that far more upbeat story appeared as a bonus only for those who bought the special lettered edition of The Hunger of Empty Vessels. The rest of you will have to wait for it to be reprinted in a future collection of mine.
Though The Hunger of Empty Vessels is currently out of print, it is now available as an ebook.