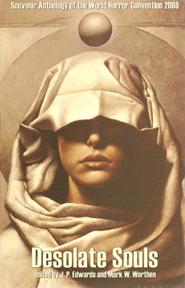 When I was asked by the editors of the 2008 World Horror Convention to contribute a story to the con's souvenir program book, I never expected that the piece would earn me my fourth Stoker Awards nomination, but that's exactly what happened.
(And in case you hadn't heard, that nomination resulted in my fourth Stoker Awards loss. But as they say, it's an honor just to be nominated!)
The only parameters I was given was that the story should take place in the desert, and so I chose to send a contentious couple out into the Petrified Forest. "Petrified" would have made a perfect Twilight Zone episode, I think, and I was pleased that a number of readers picked up on that and have told me so unprompted.
As far as I know, no copies of Desolate Souls were ever offered for sale, since they were handed out to all paying members of the convention in Salt Lake City in March of 2008 as part of their membership. So if you want to find a copy, it will be up to the second-hand market … at least until I put together another short-story collection!