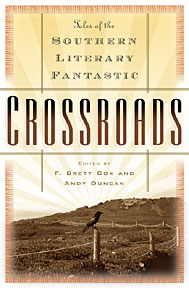 My Randy Newman-inspired story, "My Life is Good," appeared in Crossroads: Tales of the Southern Literary Fantastic, published August 2004 and edited by F. Brett Cox and Andy Duncan. Good Old Boys has always been one of my favorite albums, and so Randy Newman was the first thing that came to mind when I was asked to contribute a story on that theme.
The opening line of my story will be familiar to anyone who's ever heard the song "Rednecks," which appears on that album, and which begins, "Last night I saw Lester Maddox on a TV show, with some smart ass New York Jew." My story begins—
"Last night I saw Randy Newman on the time machine, with some smart, rich New York Jews."
—and proceeds to reference Huey Long, Kurt Vonnegut, and of course, the life and songs of Randy Newman. But don't worry—you won't have to be familiar with the entire Newman oeuvre to appreciate the story … though certainly, the more you know, the richer the experience.