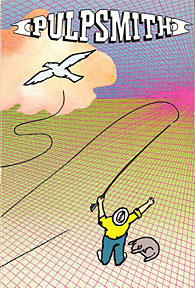 Pulpsmith was a very eclectic magazine. It billed itself as publishing fiction and non-fiction that was at "the interface between popular and experimental where the avant garde is entertainment." Whatever that really meant, all I knew was that the editors embraced both literary and genre fiction, reprinting a classic pulp story by Manly Wade Wellman at the same time as they were publishing the winner of the Edna St. Vincent Millay Awards … so I felt there was room for me in that place between high culture and pop culture.
"Laurel Fixation," which appeared in Pulpsmith's Spring 1983 issue, is the story of a man who is either obsessed with a dryad … or losing his mind. I left it to the reader to decide which was really occurring.
Eventually, looking at the stories I was writing during this period, it seemed that there were too many written too closely together that were focussed on people disconnected from their mundane lives, operating in a kind of fugue state. While I thought each story, taken individually, was well-written, when considered together I feared that I was getting into a rut. So I did my best to shrug off that sub-genre.
"Laurel Fixation" was included in my 2001 short story collection These Words Are Haunted.