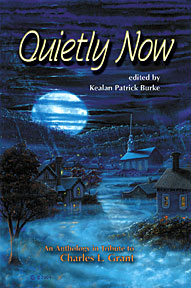 Charles L. Grant has always been a master of atmospheric horror—not the kind that runs at you with a meat ax, but instead the sort that sneaks up on you. He's always focussed on the existential terrors that makes the hair rise at the back of your neck, not the ones that only turn your stomach. Editor Kealan Patrick Burke decided to honor this influential writer and editor with the anthology Quietly Now: A Tribute to Charles L. Grant, published in April 2004.
My short story "I Wish I Knew Where I Was Going" is an attempt to walk in Grant's footsteps. It's a tale of missed opportunities and second chances, and I hope that it will chill readers as much as it did me.
But even if it doesn't … this signed, limited-edition book also contains work by Stephen King, Peter Straub, F. Paul Wilson, Joe Lansdale and others, so that's reason enough to check it out.