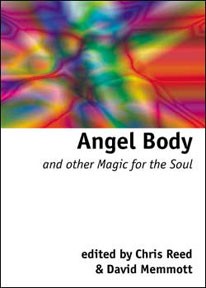 Back in the summer of 1988, I published a strange little short story titled "Buffalo" in Ice River magazine, a journal of slipstream fiction published by David Memmott. Who knew then that this would, years later, make me eligible to appear in Angel Body and other Magic for the Soul, a commemorative trade paperback published in celebration of Memmott's press, Wordcraft of Oregon?
Chris Reed, publisher of Back Brain Recluse, worked with Memmott to assemble the trade paperback anthology Angel Body, featuring stories from writers such as Bruce Boston, Ernest Hogan, Mark Rich—and me.
My story in the volume, "Choosing Time," is a time-travel story with an odd twist, one in which the reader has as almost many choices as the lead character. But as for what those choices might be, I'll let readers discover in the story itself, rather than here.
"Choosing Time" was reprinted in my SF collection What We Still Talk About.