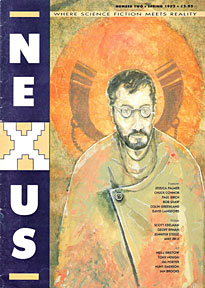 We've all heard the standard rules of writing—always start with a sympathetic character, always show and never tell, don't shift points of view in short stories because there isn't time, and so on. I wanted to write a story that broke all of these rules of writing, rules that have become cliches by now.
I had submitted this story to Interzone, and so was surprised to receive an acceptance letter from Paul Brazier, an editor there, who instead wanted the piece for a new magazine to be called Nexus. Nexus was to cover a broader range of stories than Interzone, including horror. "10 Things I've Learned About Writing" appeared in the magazine's second issue, dated Spring 1992.
This is the story of mine that receives the most mixed reactions when I read it at conventions. Some members of the audience laugh hysterically, while others walk out disgusted. I guess that means it's working.
If you'd like to check it out for yourself, and can't find that issue of Nexus (which would be understandable), you can read it in my collection These Words Are Haunted.