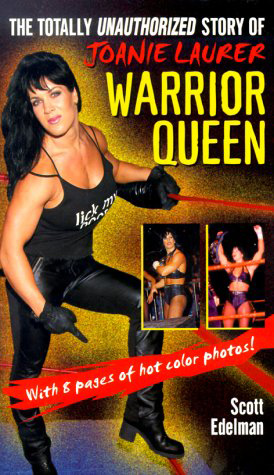 Never let it be said that the legal system is good for nothing. Because without the possibility of a lawsuit, I'd never have gotten the chance to write an unauthorized biography of Joanie Laurer, the woman who became the WWF wrestler Chyna.
It all happened because of a lunch back in 1999 with Ballantine Books Associate Publisher Kuo-Yu Liang during the World Fantasy Convention in Providence. I'd brought along a copy of of Rampage, the wrestling magazine I was then editing for Sovereign Media. As he flipped through the issue, he suggested our two companies should try to do something together … which quickly evolved into the idea that Ballantine would publish a series of Rampage-branded wrestling books.
To make a long story short, the Random House publishing contract was so complex that Sovereign decided to pass rather than pay to have its indemnification clauses vetted by the company attorney. But my bosses had no problem with me proceeding on the project independently, so rather than editing a book written by one of my freelance writers, I ended up jumping in and writing the two books myself.
As Warrior Queen was entirely unauthorized, I never interviewed the woman known as Chyna, but instead assembled the known facts of her life in chronological order, finding in those details a narrative arc that made sense—a woman trying to make it in a man's game, daring to break the canvas ceiling.
Even more remarkable than how I came to write the book was how quickly I was required to write it to meet the publisher's deadline—I only had ten days. I should have gotten a championship belt for that alone!