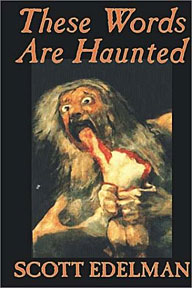 These Words Are Haunted gathers 13 of my favorite horror short stories in one hardcover volume, including the Bram Stoker Award-nominated "A Plague on Both Your Houses," a five-act play that crosses Romeo and Juliet with Night of the Living Dead.
Pulling this book together in 2001 wasn't as easy as I thought it would be, because in order to winnow down the table of contents to a manageable number of stories, I had to reevaluate my entire writing career. Normally, I think only of the stories ahead of me I still have to write, rather than the ones behind me.
Rereading every story I'd ever written was an odd experience, because whenever I return to one, I have twin emotions—first, the same ones readers have, that is, the experience of the story itself; then, all the memories surrounding the story's creation. I remember where I was when I first had the germ of an idea, what was happening in my life that caused the idea to pop into my head, where I was sitting as I scribbled the first draft, and so forth. I am not, and never can be, a disinterested reader.
The 13 stories I chose to represent my best are "Ten Things I've Learned About Writing," "The Last Leg," "Is This a Horror Story?," "Laurel Fixation," "Do the Dead Care?," "Fifth Dimension," "A Plague on Both Your Houses," "Making Peace with the Leader," "The Elvis Syndrome," "Are You Now?," "Picture This," "These Words Are Haunted" and "The Suicide Artist." Adam-Troy Castro provided an introduction so complimentary that I can't read it without blushing. I chose Francisco Goya's "Saturn Devouring His Children" to be the cover image because I've always felt it the most nightmarish portrait of madness ever committed to canvas.