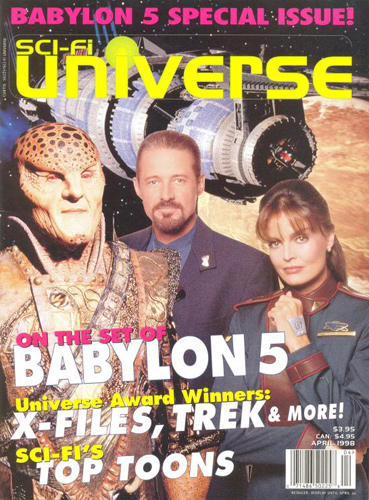 I made quite a few enemies when I took over as editor of Sci-Fi Universe, but I had fun doing it. Besides, what happened wasn't my fault—it was Larry Flynt's!
The magazine was Mark Altman's dream, and it was published by Larry Flynt starting in 1994. But when Flynt decided the sci-fi game wasn't for him, he sold Sci-Fi Universe—just the title, not the staff—to Sovereign Media, where it was revamped with a new look and a new direction. I started editing with the December 1997 issue, which meant I was responsible for three bimonthly magazines. (A fourth would soon follow.)
Some fans of Altman's edgy incarnation of the magazine—which included cover stories such as "50 Reasons Why We HATE Return of the Jedi" and "Can Voyager Be Saved?"—were incensed at the changes we made to Sci-Fi Universe. One of those readers even wrote to call me a "media whore," which tickled me so much I had business cards printed up with that as my title. But more seemed to like the kinder, gentler attitude than not, and the circulation grew tremendously.
I continued editing the magazine until 1999.