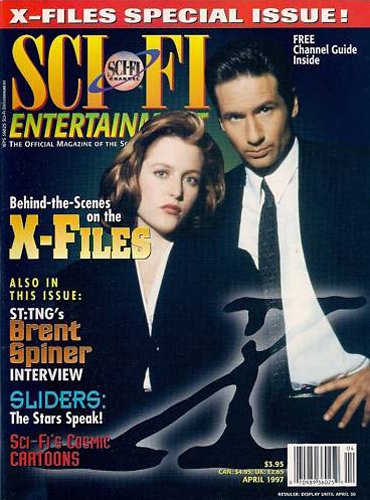 Sci-Fi Entertainment launched in 1994 as the official magazine of the SCI FI Channel, covering SF, fantasy, and horror movies and TV, as well as books, games, videos and more. I started editing the magazine with the December 1996 issue, taking over the position from editor Bob Martin, who had taken over from editor Ted Klein,
At the time, the magazine was being published by Sovereign Media—the company for which I edited numerous other magazines—under license from the SCI FI Channel. I continued overseeing the media magazine until its June 2000 issue, by which time we had modernized the look and changed the magazine's name to, simply, SCI FI. I left to take over as editor of Satellite ORBIT magazine, where I remained until accepting the position as editor of Syfy's Science Fiction Weekly.
To my surprise, I was later given the chance to edit SCI FI once more, only this time as an employee of the Syfy Channel. (A long and winding road, if there ever was one.) I started up again with the February 2002 issue and remained editor until April 2009, at which point the magazine was sold to Sovereign Media, where it continues to be published.