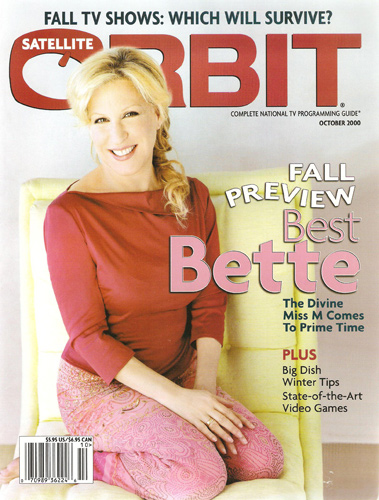 Satellite Orbit was certainly the largest magazine I've ever edited, with each issue running more than 300 pages. Of course, most of those pages were a directory of what could be seen on TV that month via C-band dishes, but still …
After my eight years with Sovereign Media, I moved to a company called CommTek for just under a year, where I edited Satellite Orbit, which had nothing to do with science fiction. (Though considering how much SF there is on TV, isn't any TV magazine an SF magazine of sorts?)
Satellite Orbit was a programming guide for owners of those huge 8- and 12-foot C-band dishes that were more popular before DirecTV introduced its smaller satellite dishes. There were more of them in 2000 than you might think, enough that our circulation was somewhere over 200,000, though I can no longer remember the exact figure.
The first 24 glossy pages were fillled with columns and features on TV series, movies, sports, and more, with the remaining pulp pages devoted to a programing guide, which also featured photography and our choices for what was worth watching.
It was fun paying attention to everything on TV, but with the company up for sale, and with the SyFy Channel hunting for an editor for Science Fiction Weekly, I decided to move on.