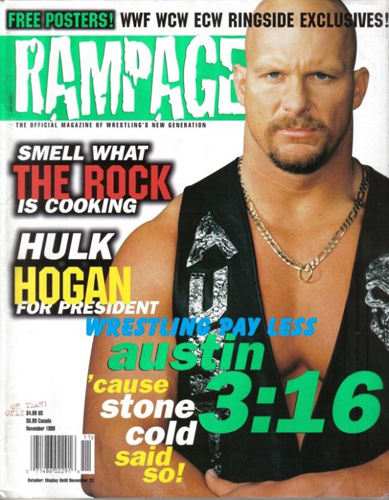 In an article on professional wrestling magazines, the Washington Post recognized Rampage as "the best" of its genre. How did a guy like me, who was editing three bimonthly science fiction magazines at the time, end up being responsible for that?
I was editing Science Fiction Age, Sci-Fi Entertainment and Sci-Fi Universe for Sovereign Media when the publishers asked whether I had what it took to edit a one-shot wrestling magazine. I'd watched wrestling as a kid, but my son was the uber wrestling fan at the time, not me—however, is it really possible to have a teenager in the house who's into the squared circle and not be up on who's hot and who's not through osmosis?
So I tracked down photographers and drafted some of the best writers from sci-fi, fantasy, and horror who also happened to be wrestling fans—like Pat Cadigan, Doug Winter, and Dennis Etchison—to write for Rampage, which as a result was the best-written wrestling magazine out there.
Our distributor was so excited by the Rampage concept that the one-shot turned into a bimonthly magazine before the first issue was even published. Rampage #1 was cover-dated November 1999, and featured Stone Cold Steve Austin on the cover.
Who knew at the time that I'd eventually write his unauthorized biography?