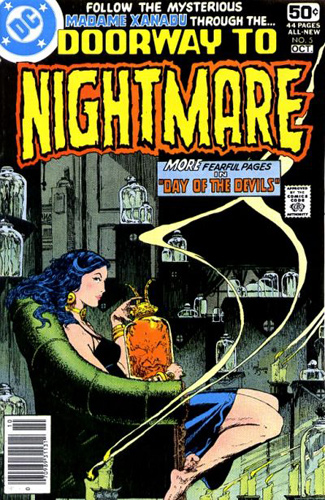 The Madame Xanadu tale "The Day of the Devils" was, at 25 pages, the longest comic book story I ever published. The interior of the issue was drawn by penciler Romeo Tanghal and inker Vince Colletta, while Mike Kaluta provided the amazing cover. Just how amazing I wasn't to find out for another thirty years.
One afternoon in 2010 at the Same Diego Comic-Con, as I was racing from one end of the humongous exhibit hall to the other, I spotted a dealer selling the original art for the cover of this issue that I'd written so long, long ago. (Make that long, long, long ago.) So I stopped my power walking and asked, "How much do you want for the Kaluta?"
The dealer's answer? "Thirty."
You do realize I was meant to add three zeroes after that number, right? There was of course no way I could afford to own the drawing, but I figured I should at least get a picture with it.
And so …