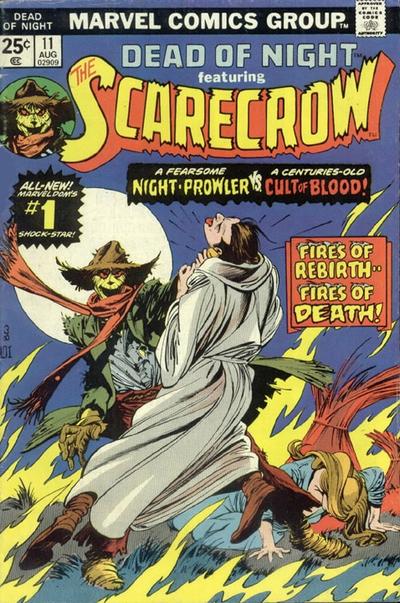 When I started working as an assistant editor at Marvel Comics, the comic book field was in the midst of a horror boom. Comics were being published about all sorts of dark characters—vampires, zombies and sons of Satan. I was an assistant editor in the Marvel Bullpen at 575 Madison Avenue when Len Wein asked me to come up with a new horror hero.
That turned out to be the Scarecrow, as pictured on the cover of Dead of Night #11 (August 1975) in an illustration pencilled by Gil Kane and inked by Berni Wrightson. The interior story, "Enter: The Scarecrow," was drawn by Rico Rival.
But here's something you may not know—one artist who really wanted to draw the Scarecrow was John Byrne, who later worked on X-Men, the Fantastic Four, and Superman. The character had gone through many incarnations before it saw print, incarnations which John had known about and, as you'll see, even participated in. In May 1975, I received a fan letter from him in which he wrote—
Just got the first issue of SCARECROW (D. O. N. #11). Love it! Really tremendous. And I much prefer this version to my pumpkin rendition.
Enclosed is a subtle hint.
The letter was accompanied by the following sketch.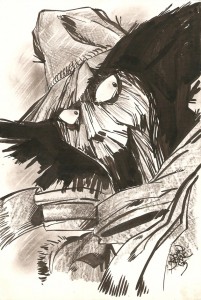 You might have thought as you read that note—what pumpkin version? It so happens that John did an earlier drawing before the Scarecrow ever saw print. This one was published in the 1975 fundraising portfolio of ACBA, the Academy of Comic Book Arts.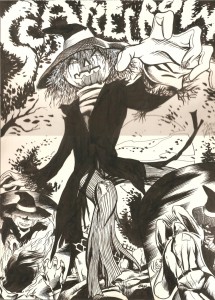 Sadly, John never got the chance to tackle the Scarecrow, as the Scarecrow himself didn't really have a chance.
See, for a while, it looked as if the Scarecrow was going to get his own title, rather than appearing in other magazines—at one point I was actually shown a publishing schedule with it listed as a bi-monthly. But then the horror boom was followed by a horror implosion, and the title was canceled before the first issue even hit the stands. The Scarecrow only appeared in one other solo adventure.